The Spa at Deerfield Health & Wellness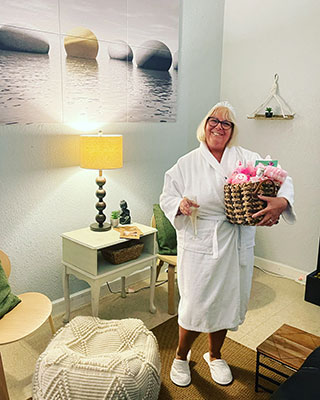 Massage Therapy in Deerfield Beach
What is Massage Therapy?
Massage is a "hands-on"therapy in which muscles and other soft tissues of the body are manipulated to improve health and well-being. Varieties of massage range from gentle stroking and kneading of muscles and other soft tissues to deeper manual techniques.
Massage has been practiced as a healing therapy for centuries in nearly every culture around the world. It helps relieve muscle tension, reduce stress, and evoke feelings of calmness. Massage affects the body as a whole, specifically influencing the activity of the musculoskeletal, circulatory and lymphatic systems.

Massage Day is the Best Day!
Reconnect and Relax with a Couples Massage

It was one of the best massages I've ever had. I do not live in the area any longer. I was visiting and was given the massage as a gift. I Have already told friends and family if they are considering a massage they should go to your office.

My first massage experience was great! I really enjoyed the explanation of different chiropractic services and I was reassured that any issues I had with my joints and muscles could be addressed.

Between Anna Lisa's deep tissue massage and Dr Ryan's adjustments……… feeling 10 times better than I did when I walked in! THANK YOU!

Ed was wonderful and Celia was warm and cheerful.

I enjoyed my massage and will be back.
Ready to make an appointment? Give our Deerfield Beach office a call today.
---
Spa Services Deerfield Beach | (954) 570-4080