Deerfield Health & Wellness Testimonials
Just amazing! Always a great experience to be in the office!

The doctor and staff were very professional and knowledgeable. Overall great experience.

I enjoyed my massage with Anna Lisa and would recommend your practice.

Friendly and caring staff. Dr, Spicuzzo was patient and explained everything throughout my appointment and took time to ease my concerns. Great office.

Very convenient location. He is an outstanding doctor, answered all of my questions and very kind.

Love the office atmosphere and decor. All staff members were friendly and professional.

Addy was super professional. I walked out of there refreshed.

Very nice staff, makes you feel very welcome. A great experience, thank you.

Dr. Ryan is the most thorough chiropractor I've ever seen and he has helped get me out of pain and relieve pressure in my back and shoulders.
Trusting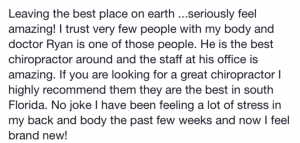 Derick P.
Appreciative
"I appreciate the time and initial adjustment received. I anticipate a good client relationship with you and your staff."
Pete M.
Awesome
"I am here because of Groupon. Dr. Ryan made it a warm first visit. I will be back."
Kim G.
The Best Staff
"The best staff around. I could not ask for a better experience every time I go see them!"
Heather G.
Welcoming
I had one of the best massages today at Deerfield Health & Wellness. The office was most welcoming. I was introduced to all of their services, including chiropractic, massage, and acupuncture. After my massage, I was so relaxed I wasn't certain that I could drive home. Needless to say, I was fine, I just felt on top of the world. Thank you for a wonderful experience. You will be seeing me again and again.
Shelley E.
Comforting
It's comforting to walk in a business and know by feeling the energy that you are going to be taken care of. Sara at the front is awesome very warm and friendly and willing to assist. I have had the opportunity to have massages by Carolina and Kamili they are both highly skilled and have a passion with their work. I can't wait to go back see you Monday! With sincere gratitude!
Angela C.
Miracle
Dr. Ryan is a miracle! You will not find a more caring, informed, and dedicated chiropractor than Dr. Ryan. He will take time getting to know your situation and work hard to help relieve your pain.
Jamie S.