Deerfield Health & Wellness Testimonials
I enjoyed my massage with Anna Lisa and would recommend your practice.
Trusting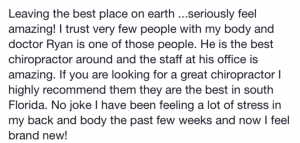 Derick P.
Appreciative
"I appreciate the time and initial adjustment received. I anticipate a good client relationship with you and your staff."
Pete M.
Awesome
"I am here because of Groupon. Dr. Ryan made it a warm first visit. I will be back."
Kim G.
The Best Staff
"The best staff around. I could not ask for a better experience every time I go see them!"
Heather G.
Welcoming
I had one of the best massages today at Deerfield Health & Wellness. The office was most welcoming. I was introduced to all of their services, including chiropractic, massage, and acupuncture. After my massage, I was so relaxed I wasn't certain that I could drive home. Needless to say, I was fine, I just felt on top of the world. Thank you for a wonderful experience. You will be seeing me again and again.
Shelley E.
Comforting
It's comforting to walk in a business and know by feeling the energy that you are going to be taken care of. Sara at the front is awesome very warm and friendly and willing to assist. I have had the opportunity to have massages by Carolina and Kamili they are both highly skilled and have a passion with their work. I can't wait to go back see you Monday! With sincere gratitude!
Angela C.
Miracle
Dr. Ryan is a miracle! You will not find a more caring, informed, and dedicated chiropractor than Dr. Ryan. He will take time getting to know your situation and work hard to help relieve your pain.
Jamie S.